Storage SilosOur storage silos are manufactured to meet our stringent specifications and are designed to reduce onsite installation requirements. Internal and external welding ensure leak free operation.
Cone design ensures product flow for even the most flow restrictive materials.
Operational by design our silos are aesthetically pleasing and many architects have asked for our input in an effort to integrate these with existing and new construction.
Construction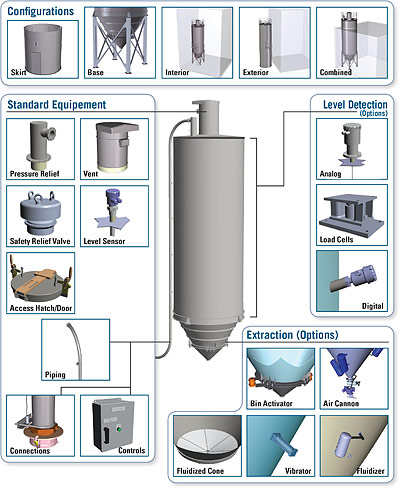 Enlarged view
Standard Equipment
Carbon Steel- 3/16" wall thickness construction. Internal and external welds.
Sandblasted and epoxy painted
Truck delivery fill line supplied complete with visual and audible alarm indicating to operator when to stop filling
Pressure/Vacuum safety relief valve
Hermetically sealed 24" access door located on top of the silo
Automatic pulse jet cleaning cartridge type filtration system located on the outside of silo roof allowing optimum material volume usage
High level detection system
Standard 60° discharge cone
Flow aid system geared for your specific product
Silo Top protective railing
4" diameter schedule 40 fill line complete with 120V flow detector and CAMLOCK fitting, capable of up to 20 MTPH fill rate
120V Control panel complete with audible 110dB alarm and light beacon
Automatic start 120V silo vent with filtration surface area of 250 ft2 (< 5mg/Nm3 escaped effluents) and capable of operating in temperatures ranging from -30 to +40 °C.
120V level detectors
Options
Aluminum, stainless steel silos
Continuous level sensors
Load cell mounting for real-time weight measurement
Precise inventory monitoring weight system
Lightning Grounding System
Heating, insulation and lighting (on skirted silos)
All accessories required for handling and transformation of the stored product
Documents
Storage Silos